Sunday, July 30, 2017 at 11:07AM
|

Kim Eslinger
|
One of life's simple pleasures - fresh sweet corn - arrived at the July 29 Mill City Farmers Market.
...and a few ears even made their way to Northern Fires' pizza oven!
Thank you to MCFM sponsor Lakewinds Food Co-op! In addition to handing out free shopping totes at the July 29 Market, they introduced shoppers to Lakewinds' new Maker to Market program, plus Jill Holter served as the guest chef for the Mill City Cooks demo. The Maker to Market program currently includes four local companies: Caldo Foods, Gyst, Little Red Hen and Señoras de Salsa. Lakewinds staff provided samples of the Caldo Foods' carota and harissa products, and Jill included Caldo harissa and Gyst pickled golden beets in her demo recipes.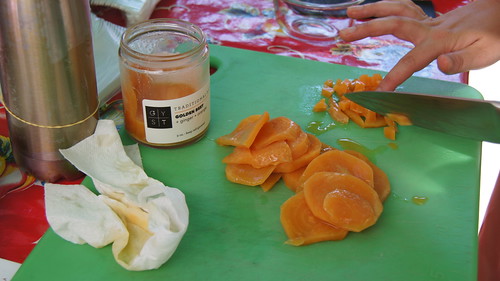 Freak Flag Foods (try saying that 3 times as fast as you can!) is new at the 2017 Mill City Farmers Market. They offer three sauces to "spread it, mix it, dollop or dip it". Look for a separate post on Freak Flag Foods later this week on our Farmers Market blog.
Below, a member of Mixed Precipitation warmed up before they entertained shoppers with an excerpt performance from this seasons Picnic Operetta, 'Philemon and Baucis–Planet in Peril'.
Liz Plambeck of Universal Pants creates women's and children's clothing using up-cycled clothing, vintage fabric, table linens, and hand-me-down fabric that would otherwise end up in a landfill.
Thank you to Allina Health for sponsoring the Meet Your Vegetables program!
Above, Michael Keyes & Jim Krans provided music from 11a-1p.
I snagged the last carton of seedless European style sandwich pickles (the Cadillac of cukes, IMO), but Deanna assured me there will be more at her Swede Lake Farms booth next week.
Milly the goat!
Comments Off
|

Email Article