Wednesday, August 2, 2017 at 3:49PM
|
by

Kim Eslinger
|
Jill Holter of Lakewinds Food Co-op was the guest chef for the July 29 Mill City Cooks demo. She prepared two recipes - Fennel Basil Pasta Salad and Whipped Feta & Harissa Crostini.
For the Fennel Basil Pasta Salad, Jill used noodles from Dumpling & Strand, zucchini, sweet corn, green onions, basil, cherry tomatoes, GYST fermented fennel, olive oil, white wine vinegar, and salt and pepper to taste.
Jill cooked the pasta first. While the pasta cooled, she grilled the zucchini, onions and corn.
After grilling, the veggies were chopped and tossed with the noodles, along with the basil, cherry tomatoes, fermented fennel and olive oil.
For the Whipped Feta & Harissa Crostini, Jill used bread from Salty Tart, feta from Singing Hills Goat Dairy, Greek yogurt, Caldo Foods harissa, lemon juice, GYST Golden Beet Pickles and green onion for garnish.
The beets are diced for garnish.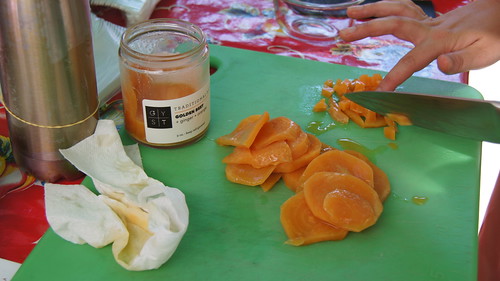 Jill used a whisk to mix together the feta, yogurt, harissa and lemon juice.
Jill presented the completed recipes on dishes from Joanna Buyert of Fringe & Fettle Ceramics.
Recipes prepared at Mill City Cooks demos can be found online.
Thank you to Lakewinds Food Co-op for sponsoring the 2017 Mill City Cooks series, and providing fun activities for the little ones!
Comments Off
|

Email Article